292 bedrooms and suites are exquisitely furnished with authentic Edwardian decor, and spacious en suite bathrooms. Each is well equipped with air conditioning, voice mail, and 24 hour room service.
Le Meridien Waldorf London Hotel is an ideal location for both the business and leisure traveller. The hotel is located near to Waterloo Bridge, Covent Garden and the Opera House so its truly in a central location.
** Hotel has 120 nonsmoking rooms on 3 floors on request.
Ideal Location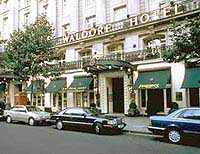 Nearest tube stations - Temple and Covent Garden and Holborn